Hickory Hill Golf Center Features a Course Built for Real Golfers
Here you'll find all the amenities of a country club without the cost. And it's a lot quicker to play!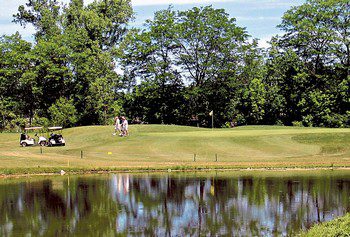 We do have some tough holes featuring either dogleg or water. But you'll enjoy playing here for many reasons. Two of those reasons have to be our 6,000 square foot tees and USGA greens. Well-maintained, our greens are not tough but and they roll true — some uphill, some downhill. Playing from the blue tees is more of a challenge, otherwise this is a fun course!
"In an era where the hearts and backs of hackers are broken on new courses pushing the 8,000-yard barrier, Hickory Hill offers a chance to post a low number and go home feeling good about your game."
– Chris Wagner, Syracuse Post-Standard
Hickory Hill Golf Center features a course built for real golfers. Dave Essig, owner and one of the designers of Hickory Hill Golf Center, had a very specific audience in mind when he started Hickory Hill in 2004:
"I built this course for those that want to improve their game. Our course provides a layout where a player can develop and evolve their skill to the next level with. We want you to come out and have fun."
– Dave Essig, Owner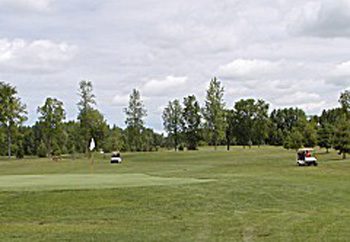 Even though this is a newer course it has a mature look and feel, with the signature, namesake shag bark hickory tree a familiar site. We're conveniently located one mile west of Rte 481, making us easy to get to, easy to play – easy to fall in love with!
The course is 18 holes; it's a par-62 round and it's 4,200 yards. The grass is Kentucky Low Mow Blue with bentgrass greens. The plush ambiance can captivate the most seasoned player.
You can walk it or take a cart. While you're here, you can work your entire arsenal of clubs or work on your iron game. Come out and learn the game or hone your existing game. Enjoy the first round of your life, or your umpteenth. It's that kind of golf course!
The longest hole is 350 yards; the shortest is 150. There are a lot of other courses around here (private and public) but they're all regulation courses, which means it takes longer to play. That's our decided difference. This is what separates us from all other competition.
The course is open from 7am – dark, May – September, weather permitting.
The course stays open as long as Mother Nature cooperates; we keep a superintendent on-staff year-round.
Looking for a Challenge?!

Five, six and seven offer a bit of a challenge-we've had people come off these three holes asking to be reimbursed for their 3 balls that have found a new home in the woods!
Five is tight on the right and passes over a beautiful water hazard.
Six and seven are tight on the right with a wooded hazard on the right hand side.
Look out for the big shag bark hickory tree to the right on six. It's been known to lure in its share of errant balls.
Four sets of tees:
Blue 4,115
White 3,750
Red  3,127
Perhaps best of all — you can play the course in three hours! 
Getting in and out! Simple as that. Play what you'd like to play and move on with your day. We understand that life moves at the rate of speeding bullet, but we would like you to join us, slow down a little, and enjoy some time out on the course!
Ready for a round? Give us a call Today!
(315) 652-9822