Share the Experience of Delightful Rounds
Join our league play.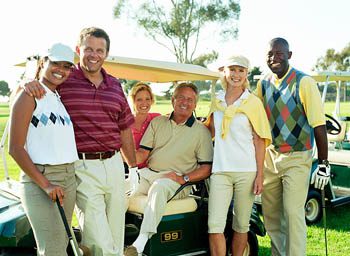 We have a league for everyone – and if we don't have it, tell us! When you think about it, it makes perfect sense why so many golfers enjoy league play here at Hickory Hill Golf Center. After all, the course was designed for enjoyable rounds, and most people participate in league play for the camaraderie, not blood!
We welcome any and all leagues – men, women, mixed teams. We love beginners and the more skilled golfers. We have quite a few leagues already established but we're always looking for more.
We conduct a youth league for six weeks every summer, along with three-day instructional camps for Junior golfers for all skills and abilities. We firmly believe in the future of golf, and these little folks will soon be carrying the torch for the preservation of this grand old game.
You might say that when it comes to fun times on the golf course, Hickory Hill is in a league of its own!
For more information on getting into an existing league, or if you have suggestions for additional league play, please don't hesitate to contact the golf shop. Or click below and fill out a quick questionnaire.
Click Here to request more information about hosting your League at Hickory Hills Golf Center or call us today at (315) 652-9822