The Convenience of LP Tank Refills; a Savings of 50% Over Exchange Tanks – Country Propane Is Now Available at Hickory Hill Golf Course and Our Original Location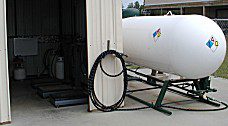 At your service for a quarter century and we'll be here tomorrow! Dave Essig, the owner of Hickory Hill Golf Center has also been in the propane business for over 37 years.
Today, you can find Country Propane in two locations:
The original office at 439 US Rte 11, Central Square, NY – two miles north of the Brewerton bridge
Hickory Hill Golf Center; 3451 State Route 31, Baldwinsville, New York 13027
(315) 652-9822
We've been primarily providing residential customers beyond the natural gas mains with propane for heating. But the burgeoning popularity of gas grills for backyard use prompted us to offer LP services at the the golf course as well.
Country Propane grill tank refills for 9.99, plus tax! That's half the price of the exchange. There's convenience and then there's just plain saving money!
Fill up conveniently and in a timely fashion at any of our two locations at the best priced location in Central New York! We fill our tanks to 15 pounds, the industry standard, at rock bottom pricing! We also provided exchange tank and new tank options for out of service or expired tanks. For more information on propane tank information, please contact us at the number below or leave a message through the link below.
Our propane will be open 9 am – 7 pm Memorial Day – Labor Day, weather permitting.
Now open 9 am – 6 pm- 7 days a week, until the course closes for the season.
Click Here to request more information about our propane services or call us today at (315) 676-2978.